Mapledurwell & Up Nately Parish Council
Home
To Mapledurwell & Up Nately
Understandably, you may find social distancing boring and frustrating. You may find your mood and feelings are affected and you may feel low, worried or have problems sleeping.
Mapledurwell & Up Nately has some great countryside around and being outdoors with nature is a great way to get much-needed fresh air and exercise during these times.
While we encourage you to get outdoors, please consider other residents and self isolate if your are feeling unwell or experiencing symptoms consistent with the COVID-19 infection.
Everyone is encouraged to follow social distancing guidelines by keeping a distance of 6 feet or more between you and others.
Stay safe and well. Mapledurwell & Up Nately PC ❤️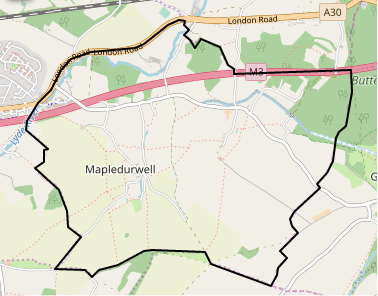 Mapledurwell & Up Nately Civil Parish is in the Basing Ward of Basingstoke & Deane Borough Council in Hampshire and combines the rural Parishes of Mapledurwell and Up Nately including the hamlet of Andwell. The Parish covers an area of 806.88 hectares with approximately 480 registered electors. 2011 census data shows 270 households and 620 residents.
Mapledurwell and Up Nately Parish Council comprises five elected Councillors and a part time Clerk.
Parish clerk email address clerk.mapledurwellupnately@parish.hants.gov.uk