Home
Condolence book and charity donations for HRH Prince Philip
For people to pay tribute to HRH Prince Philip, The Duke of Edinburgh, the Royal Family has set up an official e-book of condolence at www.royal.gov.uk. A selection of messages received will be passed onto members of the Royal Family and may be held in the Royal Archives.
In light of the current COVID-19 restrictions, and in line with the Royal Family's wishes, residents wanting to express their condolences are being encouraged to make a donation to a charity of their choice, or one of The Duke of Edinburgh's Patronages in his memory, instead of leaving floral tributes. More information about the charities and organisations the Duke supported are at https://www.royal.uk/dukes-charities-and-patronages
Mayor of Basingstoke and Deane Cllr Diane Taylor said: "As the borough of Basingstoke and Deane mourns the death of a great man, I would urge residents to follow the Royal Family's wishes and leave personal tributes in the official book of condolence.
"Prince Philip was committed to public service and was associated with over 990 organisations over the course of his life with specialist interests in a number of subjects. His hard work and dedication to these charities will always be remembered and donating to one of his patronages would be a fitting tribute and ensure his lasting legacy can continue for years to come."
The Union Flag will fly outside the Basingstoke and Deane Civic Offices at half-mast until after the late Duke's funeral, with more details of this expected in the coming days.
Please visit www.basingstoke.gov.uk/HRH-Prince-Philip for more information.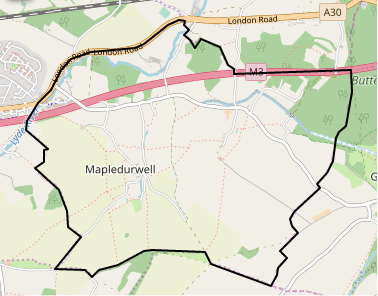 Mapledurwell & Up Nately Civil Parish is in the Basing Ward of Basingstoke & Deane Borough Council in Hampshire and combines the rural Parishes of Mapledurwell and Up Nately including the hamlet of Andwell. The Parish covers an area of 806.88 hectares with approximately 480 registered electors. 2011 census data shows 270 households and 620 residents.
Mapledurwell and Up Nately Parish Council comprises five elected Councillors and a part time Clerk.
Parish clerk email address clerk.mapledurwellupnately@parish.hants.gov.uk